Moving With God
This is Alyssa Sampson's blog. She is Pastor Tim's daughter.
Details

Written by

Alyssa Davis
My day started unusually early this morning when Torre felt that 4:30am would be a good time to chat and play rather than go back to sleep after nursing. I checked my email while we sat in the living room and learned some sad news for our family.
Sitting in the dark living room, I held Torre and felt sad and prayed, and I was grateful for the...
Details

Written by

Alyssa Davis
I am not always a big fan of The Message Bible translation, but sometimes it gives me such a fresh perspective on scripture, and the simple language allows the truth to get right into my heart. For example, this week I read Matthew 5:13-14:
Let me tell you why you are here. You're here to be salt-seasoning that brings out the God-flavors of this e...
Details

Written by

Alyssa Davis
I have not managed to read my Bible very much lately, but I have been so struck by this realization since it came to me two weeks ago that I think about it nearly every day. I almost feel like I can't read anything new until my soul finishes savouring the Beatitudes in light of this new perspective. I am familiar with the Beatitudes as a...
Details

Written by

Alyssa Davis
Matt and I went car shopping yesterday. BLAT is on its last legs, and we are hoping our next vehicle will be more reliable for us over the next several years. The car we test drove today was nice, but not the right price, and the sales guy was merciless in his haggling. He stood firm on the asking price despite some obvious work the car would...
Details

Written by

Alyssa Davis
Earlier this week I shared a new endeavour I've undertaken to get a better handle on my wardrobe. For the next 3 months, this is the wardrobe I'm working with: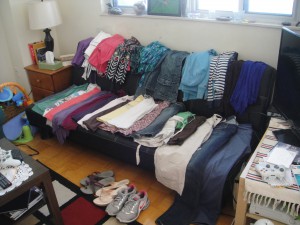 It doesn't actually look that minimal to me, although to be fair I have bent some of the rules. Although there are in fact 33 items pictured above, I decided not to count...